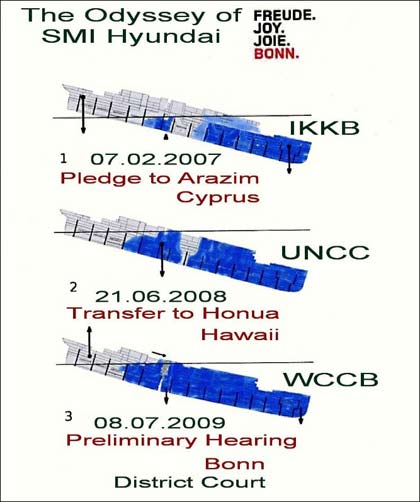 SKETCH OF A VESSEL TO CARRY THREE  LOADS + BUDGET OVERRUN

Eversince globalization took command, regular procedures, such as serious financing  of grand – scale projects became hazardous.
We all know, that complete credit institutions and banks sank to ground like cargo vessels hit by torpedos . Even big investments are  not screened thoroughly enough and investors  – even bankers – are colourful figures interchangeable behind curtains of moral and seriosity, sometimes unseen by the public and town officials.
Other hazards besides "crazy investors"," corrupt lenders" or "crooked acountants" are likely to occur wihin the amalgam of municipal  power and local savings banks , beeing allies of an investor to stir promising public projects .
Sometimes – and this is the case in Germany with the World Conference Center in Bonn (WCCB) –  investors promise rapid-growth market expansions  and with almost no money do manage company/community plus project into an odd position.
One project which became well known with its ups and downs is the Grand Avenue Projekt in L.A.
Investors changed, building costs went high, architects had to give up, the project ran short of money but still there are controle forces which do guarantee transparency and a steering quality in order not to burn public money.
Unlike in Bonn: because the public and the private sector (of course some privates are closer to big money than others) needed some reputational balance after the German Parliament moved to Berlin,  the City of Bonn took over the "historic Parliament buildings" completed in 1992.  Left behind until nowadays were several ministeries, some of which turned into big multinational corporations which make Bonn not looking too bad.
City officials Bärbel Dieckmann ("Oberbürgermeisterin" = mayor,  reinterpreted by her office into "lady mayor") and  Arno Hübner (Project comissioner) started the promising project with the hope of getting about 2.000 more jobs for Bonn, on November 3,  2006  with a groundbreaking ceremony. Co – shovelers were CEO of  SMI Hyundai, Dr. Manki Kim  and Director Choong Hong Cho of  Hyundai Remodeling & Construction Co., Ltd.
As it turned out recently, the investors purse and his credit status of the  Euro 140 Million project was not carefully examined from the very beginnig. In fact the pockets of Dr. Kim were totally empty. But wanton imagination of blooming economy in Bonn took command of mayoress "Lady Dieckmann".
On September 17, 2009 it became evident to the public by proof of documents, presented by Dr. Klaus Peter Gilles (CDU) to the city council that one was not  informed properly and on time of all implications, ramifications and not at all about the instability of the investment in early 2007. These revelations made the meeting quite  lively.
Until now,  Euro 104 Millions were transformed into concrete, glass and steel. Building cost controlled by the city facility manager and mechanical engineer  Friedhelm Naujoks (SPD), went up  to additional 60 million Euros. No sufficient explanation to where the money went, has been handed over so far, neither to the City Council of Bonn, nor to the public.
In August 2009,  the building process in Bonn got stuck, parallel to UNFCCC Climate Change Talks in preparation for UN Climate Change Conference inCopenhagenin December. There a comprehensive international deal is to be sealed. Also stuck, with no results turned out the Bonn Climate Change Conference.
Coincidentally Thai Prime Minister Abhisit Vejjajiva said by adressing government delegates in the interim meeting in Bangkok on Septembeer 22, 2009:  "There is no plan B. If we do not realize plan A, we go straight to plan F, which stands for failure", meaning climate change.
Analogous to his words were the situation in Bonn in August 2009 when the project went out of hand.  Peter Finger, city council member and mayor of "The Greens" called for Plan B, but there was none. In the meantime  the City of Bonn has to pursue Plan F, which is the search for a new investor.
Here is the whole story:
Internal political climate in Bonn drastically changed due to severe problems with the WCCB (UNCC) project since the City Council of Bonn on Sept. 24th 2009 gave way to cancel the contract with UNCC Inc. as a result of "Operation "Gold" by Bonn´s district attorney and Düsseldorf office of criminal investigation.
Statutory offense is fraud and embezzlement.
Detained for questioning were two suspects one: general contractor, architect and city planner Young Ho Hong, Berlin,  former European President of  SMI Hyundai Company, based in Reston. Va. (USA) and two: lawyer Dr. M. Thielbeer from Düsseldorf, a former consultant of the City of Bonn.
In the meantime Mr. Hong has left prison after several days of interrogation. He confessed  giving bribes to lawyer Thielbeer.  In the meantime SMI Hyundai took him from the CEO´s homepage.
Still in custody is Dr. Michael Thielbeer, CEO who runs the World Conference Center Management Inc.  He is also in charcge of other institutional offsprings connected with the WCCB such as Green Meeting. Managing Director is Matthias Schultze who is partner of other agencies, too,  like the  Bonn Sustainability Portal.
He also closely cooperates with Kreativ Konzept Convention Bureau of city council member Martin Schilling (SPD), spokesman of energy and economic matters.  Schilling on the other hand got commissions from SMI Hyundai and run the election campagne for both,  mayoress Bärbel Dieckmann and her successor Jürgen Nimptsch (SPD).
Dr. Michael Thielbeer proposed SMI Hyundai as best competitor within the investor`s race and later changed sides to SMI Hyundai Company. Bonn`s city administration headed by popular mayoress Bärbel Dieckmann (SPD),  seemed to have no problems with the "deal". Now it turned out to be a boomerang, since Thilbeer is part of the  vertical and horizontal network around WCCB Management Inc.
Owner of the WCCB Management operating company are Dr. Thielbeer (2 %), Matthias Schultze (2%) and Young Ho Hong (94%). The  City of Bonn is symbolic shareholder. WCCB Management Inc. is subsidized by the state with 1,6 Million Euros p.a.  (for details see: "WCCB – The Desaster run it´s course").
The project came to a screetching halt, since investor number 2, Honua Investment Management Inc. of Hawaii did not put more money into the project, due to budget overrun.
Building costs went up from projected Euro 140 Millions to 200 Millions and were  presented far too late to the City Council of Bonn.
Cost – controlling responsibility lay in the hands of city facility manager F. Naujoks (SPD) for the Cologne-Bonn Savings Bank, loane provider to the City of Bonn.
Behind Honua´s small firm with CEO Andrew Seung Tae Jang stands Korean multicorporate enterprise  Dongbu Insurance Co. Ltd.  one firm out of the "New Investors" of the Grand Avenue Project in L.A.
More severe problems, which recently became apparent, were caused already in August 2007, when CEO Dr. ManKi Kim transferd 94% of UNCC to Honua despite the fact that UNCC before was pledged to Arazim Ltd. (Cyprus) in Nicosia. Both financial transactions in 2007 were revealed to the City Council recently, short before the struggle of ownership went to Bonn´s District Court. Arazim (Cyprus) Ltd. won the preliminary hearing and the process of completing the project came to a halt on a legal level, too.
Final result of unusual handling of a multiple problem:
On September 17th, 2009 City Council members of "The Greens", headed by Doro Pass – Weingartz , filed a petition for resignation against Bärbel Dieckmann to the City Parliament. The "Blacks" (CDU), headed by Benedikt Hauser, supported by several non party – council members  joined the petiton because of damaged  confidence and frustration of beeing misused.
All council members payed tribute to the merits of Dieckmann´s 15 years in office but a majority won the vote 34:24.  Some of them expressed, that "they once voted another mayoress". Reason for withholding relevant information by the administration of  Dieckmann (SPD) in 2009 to City Council and to public might be the coincidence with city mayors and federal election, both won with slight margin by social democrat candidates.
Because of the more symbolic character of this "impeachement", Bärbel Dieckmann,  short before retirement and meanwhile appointed with an honorary post at German "Welthungerhilfe" (WHH) will stay in office until end of October 2009. Nevertheless Bonn´s City Council now wants to be informed complete  on time, in order to regain the role of the sovereign.
First act one week later: cancellation of the UNCC contract in order to regain control over building process and administrative procedures, which was fulfilled by September 30, 2009. Overall costs which might become a burden to Bonn´s already squeezed taxpayers:  about 200 Millions, if not more. Despite the fact, that the money went into a building which could be finished within several months, tremendous obstacles lie within the unresolved ownership between Honua (commercial registry) and Arazim (preliminary verdict).
According to expert´s opinion juridical obstacles and abandoned building site may cause cost within the two – digit million range, an expensive vision of Bärbel Dieckmann for the unasked taypayers of Bonn.
Thus the chase for new investors has already started, but the unresolved legal case between Honua and Arazim could last for years. The internal chase for the persons responsible has not started yet and the chase for money might turn out to become a cruel procedure:
as of now the City of Bonn involuntarily may change from an ally to a customer of the local savings bank, for a project which was started in November 3, 2006 too early, with too little investors money (Euro 10 Millions).
Detailed information on:
WCCB local background information by Hans Weingartz, Bonn,  (in German),  focussing on the  two partners of the PPP (Public Private Partnership) " , the system" SMI Hyundai and the "system" Dieckmann
rhein:raum-online (in German), local online magazin with various articles on the complex WCCB case.
and:
WCCB on Wikipedia (in German)
Author:
Peter Riemann, Dipl.Ing./M.Arch. (USA), riemannarchitekten BDA,  Bonn at Wikipedia and zoominfo
Contact: info@riemann-architekten.de
P.S.                You may find more revealing articles (in German) about the "system" Dieckmann on the blog:  Deine – meine – unsere BRD, starting on April 27, with a story of  the city facility manager Friedhelm Naujoks (SPD).
More or less at that time the investigation and publications about unlawful administrative procedures (the KAG – affaire) and cloudy proceedings (the WCCB affaire) under mayoress Bärbel Dieckmann (SPD) started in the WorldWideWeb as result of the cover – up manoeuvres of different adminstrative bodies in the "Stadthaus".
Investigation proceedings on the "KAG" case by the state prosecutor are pending since March 2009 (endangerment of school children and staff and thwarting a punishment by the legal administration office).
Already in the first Naujoks – post, parallels could be seen to the strange "non Prussian" working methods of the admintrative body in Bonn. Continous critique, not only by the opposition, about the weakness ofmayoress Dieckmann in terms of leading the administration firmly and efficiently is evident.
It might be an explantion for the small catastrophies (mould and poison in schools!) and big disaster (Germany´s most expensive building ruin?) within her term of office, finally leading to the symbolic "impeachment" attempt of the majority of the City Council of Bonn.